Here is a tank with 1 breeding pair 9" and 2 other reds trying to prove at 8"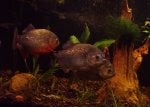 Here is a pic of the shoal of wild reds that would rip sh*t out of your hands. They were crazy little guys. Some have been lost, some shoaled in my mix tank now, but a majority of them are being sold to crockeeper this week.
This is the 150 ag. Kinda looks rough, but makes for one hell of a grow out tank!!!
This is a pic of my 125 breeder tank. Just those lonely two P's doin' thier thing in the basement, where nobody can watch. I find privacy is a major factor in breeding.
Here is the link to the vid of the mix shoal. Don't mind the stupid feeder that has lived for 2 weeks, and is getting mighty brave. He won't last long. Belive it or not, that tern was 3" on sept. 12 when I got him. They grow SOOOOO fast!!! Not the best video, but hey, it works.
Link>>>
Will get some pics of my 55 gal and fry tanks as well.