Well, after finally learning how to somewhat use my A540 I have decided to keep track of their growth and behavior with the camera.
First few days they scattered and hid from it.
Now they pose and even do stills for me!
Note that the tank light is FULLY ON 10,000k, it's just me tinkering with the camera so I can get detailed pics of them reds.
Here are a few from January 6th.
Here's Fury, my biggest Red, 4.75"
A vid of my Reds Chillin'.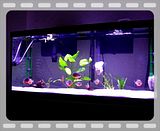 Overactive Reds.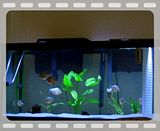 Someone PM me on how to embed Video files.