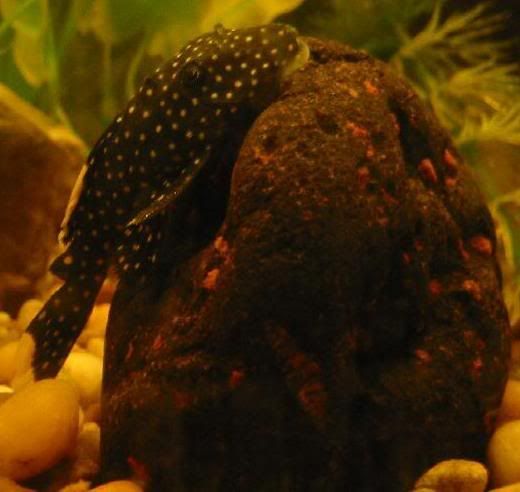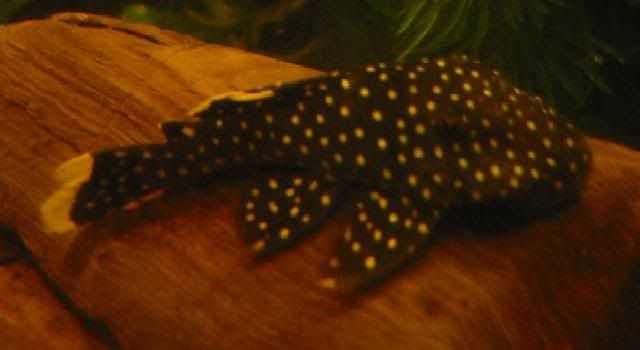 *above pics submitted by

Tibs
Scientific name:
Baryancistrus sp.
Common name:
Gold Nugget Pleco
Synonyms:
L081
Genus:
Baryancistrus
Order:
Siluriformes
Class:
Actinopterygii
Family:
Loricaridae
Size:
6" (15cm)
Origin:
Amazonian water system, piticularly Rio Xingu
Minimum Tank Size:
30x12x12 (20 "Long")
Tank setup:
plenty of "surface" area in which it may establish territories, and be sure to give plenty of room if housing with other plecos
Temperament:
a peaceful pleco towards non-plecos, although they can be quite aggressive towards others of the same genus, and very pugnacious towards other gold nuggets
Compatibility:
suitable for most community setups
Water Type:
Freshwater
Temperature:
76-86°F (24-30°C)
Hardness:
6-11 dH
pH:
5.8-6.8
Sexual dimorphism:
like most plecos, they can be very hard to sex, although in sexual maturaty the males will tend to have a "wider" flatter head, while females is more rounded. while young, it is said that the males will be more inclined to hide in caves, while females are more active. odontal growth is the same on both.
Breeding:
generally not easily acheived because of the fact that 2 gold nuggets shouldnt be put together, and that it is very hard to sex. although it would be expected to be similar to other baryancistrus and other similiar plecos
Feeding:
in my experience with these there favorite food seem to be sinking carnivore, although a varied diet with lots of veggies will also be appreatated,too.
Other Varients:
a debated topic, there is other varients with gold nuggets that can be labeled as L018 and L085, which are both said to reach 12"+, and L177 which has "larger" spots.
A very good "starter" pleco in my opinion for a few reasons, although they can be touchy, once established they seem to be pretty hardy and accepting. they can also are generally easy to find at any petstore and usually at a pretty reasonable price. another thing that makes them good is the variety of foods, once aclimated right they can be very easy to get to eat. although the main thing that discourages most is that they can be very hard to get to aclimate and establishd correctly.
heres a handy link
another handy link
This post has been edited by MR.FREEZ: 11 January 2006 - 10:19 PM