OK kids. Time for a how to from uncle sunshine. I know this may seem obvious to some of you but alot of people don't ever consider how much money,effort and time this will save them when it comes to feeding their predators. (not like the ones on Dateline)
Anyways here we go.
What you want to do is head down to your local supermarket and find your fresh seafood section. take a gander at their selection of tiger shrimp. also labeled as thai. shrimp or Malaysian shrimp. They are about 3" long and come raw with shell on. Sometimes you can also find them de-shelled (this is handy if you're a lazy bastard. Ideally you want to find some that are Uncooked and SALT FREE. Or unsalted. This isn't always possible but you might search around your local markets and see whats available. for sure you want them to be iodine free. This is why you want to stay away from the ones that are in the frozen section. Anyway, depending on where you are you can get a pound or so of these shrimp for around 3-4 bucks.
Once you get your shrimp home, break out
a plate
,
a Med-Lg bowl
a nice
sharp

knife
. (I emphasize sharp) And a 4"-6" rubbermaid or ziplock container.
If the shrimp are shell-on take this time to de-shell them. some people would feed shell on. I don't and i think leaving the shells on would make the next step harder if not impossible. You do lose some of the nutrients that are in the shrimp but that can be fixed. We will get to that a little later.
Once you have your pile of de-shelled shrimp cut them down to bite sized pieces. I chop mind down to about a half an inch. and then toss them in a bowl.
Now that you have all your shrimp all chopped up. I recommend purchasing a bottle of
Kent Zoe Freshwater
.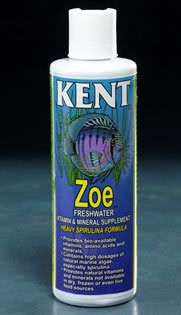 This is a great vitamin supplement that does wonders for the coloring and health of your fish. you can add it direct to your water or to make it most cost effective you want to soak your food in it. This is what we will do here. Pour in enough to cover all the shrimp. you can add a little water to help deluite it but not too much t. let it sit in the Zoe for maybe 20 min. you want it to absorb as much of it as possible. the shrimp should take on a green tint. this will let you know that it is absorbed.
Next take your shrimp and toss a small amount into a sandwich baggie. (notice the green tint. I was almost out of zoe so didn't get a good soak yours should be much greener)
You only want it to be enough so that when you flatten it all down it is only half way up the bag and no more then
1 chunk thick.
This is a very important. 1 chunk thick.
Now depending on how big the container you have is you may skip this part. If your baggie flattened out fits lengthwise and allows you to place your baggie in flat then cool. If not follow along
If you have a small container then you want to probably split the portions in the baggie up so that you can fold the bag and keep both portions flat.
Now fold close your baggie, keeping the food flat and put it in your container
Repeat until all your shrimp is in the container. now find it a home in your freezer.
FEEDING TIME
Ok so you're food is prepped and now its time to feed the fish.
So break out the box and open a package of shrimp.
Depending on how many fish you're feeding and how big they are will determine how much YOU need to break off. I'm feeding an arowana, snakehead, bichir,convict and flowerhorn. So I break off about 2" sq of shrimp. (this is why keeping it 1 layer thick is important. any bigger and its a pain to break off pieces.)
Since I add vitamins to my shrimp I don't want to run them under water to thaw them out. So I put my shrimp in a little paper cup and defrost it in the microwave.
Make sure you are using the Thaw setting or else you will cook the shrimp. Again since your microwave is different then mine your thawing times may vary. for me I defrost on pwr lv 3 for 10-15 sec.
this leaves the shrimp slightly frozen. but a couple sec's in the tank takes care of that.
Now toss it in the tank and let the fish enjoy.